November 1st, 2018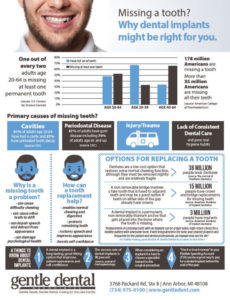 As a child growing up in Taiwan, Angela Chao didn't like to brush her teeth. Oral hygiene in her community was not a big priority, and her parents "had more challenges to face than my stubborn hatred for the spicy mint of toothpaste."
The result, of course, is that Chao developed many cavities as a middle schooler. A fear of doctors made her hesitant to visit the dentist, though she eventually did get fillings. But several years later, after moving to the United States, those fillings failed and her teeth began breaking apart.
Still wary of the dentist, "it wasn't until the pain stopped me from eating and smiling and caused me to avoid social interaction that I decided to do something," she said.
Chao went to Gentle Dental Associates in Ann Arbor for a consultation and was advised to get a dental implant. Skeptical at first, she did her own research on implants and other options for replacing missing teeth, then talked with other people who had gotten implants.
She decided to go through with the procedure.
"I told myself that if I don't do it now, then when?" said Chao, now in her 50s. "Getting an implant was an easy choice for me over other options."
Chao is like 170 million other adults in America who are missing teeth. Half of adults age 20-64 are missing at least one permanent tooth, according to the latest national survey data from the National Health and Nutrition Examination Survey.
While a majority of people age 20-39 still have a full set of teeth, only one of every three people age 40-64 do. The primary causes of tooth loss include cavities and periodontal disease, which both stem from poor oral hygiene and lack of consistent dental care.
A missing tooth can cause several problems.
"If a tooth is missing, then chewing becomes less efficient and the neighboring teeth alongside the space may be subject to over-function and eventual fracture," said Dr. Debby Hwang, a periodontist at Gentle Dental Associates. "An absent front tooth also may hinder cosmetics and speech.
"Replacing a tooth can protect the remaining teeth, allow for normal eating and digestion, restore any speaking deficits and contribute to psychological health."
There are three options for replacing a missing tooth:
A removable denture is a cost-effective choice, but it needs to be taken out every night and is relatively fragile, so it might not provide full chewing function. Chao preferred to have a permanent replacement instead of something removable.
A fixed bridge fuses a fake tooth to adjacent teeth and is not removable. The neighboring teeth get crowns that are fused to a fake tooth in the middle. Chao wanted to avoid cutting into her healthy, natural teeth to support a bridge.
A dental implant involves a titanium anchor that's placed into the bone where the tooth is missing. The jaw bone grows around the anchor, which is then capped with a crown several months later. It's like having your own tooth back.
An implant is typically a long-term solution that, unlike the other options, does not rely on neighboring teeth for support and cannot decay, Hwang said. Plus, many people are surprised by the lack of discomfort they experienced during and after the procedure.
A dental implant is the most-costly option to replace a missing tooth, at least initially. But because it doesn't decay or break it often can be the most cost-effective solution over the long term. If something breaks in a bridge, for example, you have to replace all three teeth. It's also more likely to get cavities with a bridge because you can't floss in between those teeth.
Because a dental implant is fixed into the jaw, it can be a "high-value, high-return choice," Hwang said.
Chao was able to afford dental implants because her family had put aside money to pay for health care costs. If you have a Health Savings Account through your employer, that can be a great way to cover the cost.
Many employers also allow people to put money into a flexible spending account (FSA) for health care, and that "use-it-or-lose-it" money has to be spent by the end of the year or it's gone. If you have an FSA, that can be a good way to pay for implants before the end of 2018 — or a good place to put money in 2019 to pay for implants next year.
The reward of being able to smile and laugh and eat with ease again has been well worth the cost to Chao.
"I don't have to worry about my smile anymore," she said. "Chewing food is becoming easier and my posture and my facial features are slowing coming back in balance since I had my implants done. I am very happy!"