October 1st, 2018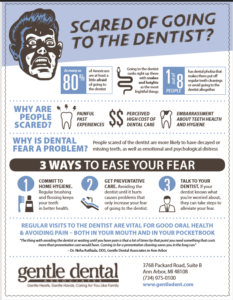 Dreading the dentist ranks right up there with being scared of snakes and afraid of heights as the biggest fears of Americans. Now, a new study finds that fear of the dentist has a clear, negative impact of people's oral health.
One of every eight people has dental phobia, and they are more likely to have decayed or missing teeth, the study concludes. People scared of the dentist also tend to have more negative feelings like sadness, tiredness and lethargy, lead author Dr. Ellie Heidari said.
"This phobia can have a major impact on a person's quality of life," she said. "An action as simple as smiling will be avoided due to embarrassment of their poor teeth."
While extreme dental anxiety is relatively rare, as many as 80 percent of Americans are at least a little afraid of going to the dentist. Unfortunately, that fear hinders people's oral health because they put off regular teeth cleanings. Nearly a quarter of people who suffer from some level of dental anxiety do not get regular dental treatment, and upwards of 10 percent avoid going to the dentist entirely.
That's a problem because "regular dental attendance is central for maintenance of oral health as well as avoiding dental pain," Heidari said.
So what can be done about dental anxiety? First, let's look at some of the causes. People worry about going to the dentist for any number of reasons: maybe they had a painful experience in the past, or maybe they're scared by the sadistic, drill-happy dentist stereotype portrayed in movies. For some people the cost of dental care can give them pause, and for others it might be embarrassment about the health of their teeth.
"Another one is fear of the unknown," said Dr. Neha Kuthiala, DDS, a dentist at Gentle Dental Associates, an Ann Arbor practice that offers free consultations. "It's a situation where you're asked to sit with your mouth open and you can hear things and feel things but you have no idea what is being done to you.
"Dental work is not something people want to have done. It's just one of those things."
But whether you want to get dental work or not, going to the dentist is vital for your oral health. And there's no reason a trip to the dentist can't be pleasant. In fact, here are three ways to make seeing a dentist a smooth, stress-free experience:
*Get preventative care before it's too late — It's better to fill a cavity than to wait and have to remove the tooth later. "The thing with avoiding the dentist or waiting until you have pain is that a lot of times by that point you need something that costs more than preventative care would have," Kuthiala said. "Coming in for a preventative cleaning tends to save you in the long run."
*Commit to consistent home care — You may not have to floss every single day (although that's not a bad idea), but you should do it more than once a month. The better you follow the advice of your dentist and hygienist, the better results you'll have when you go in for a checkup. "A lot of people are feeling very judged on their oral hygiene and any existing cavities or anything that might be diagnosed at the dental office," Kuthiala said. "As long as patients are doing their part at home and cleaning to their best of their ability, that's all they can do."
*Talk with your dentist about your anxiety — Share what you're worried about. At the same time, a good dentist will take time to talk with anxious patients before looking into their mouths. "If we know the reason for anxiety, a lot of the time we can work with the patient to alleviate that," Kuthiala said.
The dentist can have a big impact on your level of anxiety simply by treating patients as people rather than procedures. That can include keeping patients up to speed on the progress of a procedure and talking about what they're doing each step of the way, or giving patients control by allowing them to stop a procedure any time they feel uncomfortable.
In addition, scheduling patients with the same hygienist and dentist every visit is a proven way to ease anxiety. Also, distractions like office music or a TV in the operating room can take people's minds off their fear.
Of course, providing nitrous oxide, or laughing gas, can be a good option for some anxious patients, too.
"We're all aware of how people don't like to come to the dentist," Kuthiala said. "We try our best to treat them with a gentle touch.
"There's much more to that person than just whatever it is that you're working on (in their mouth). We want to treat patients as the person, not just the tooth."