September 4th, 2018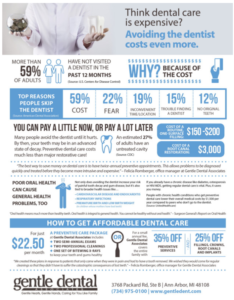 Jean McClain-Moutardier knew her 9-year-old daughter needed some work done on her teeth. But since she didn't have dental insurance to help cover the cost, she didn't bring her in right away
Doing the paperwork to get coverage took time. Too much time, in this case.
On a Saturday night a few weeks ago, the girl kept waking up in horrible pain. McClain-Moutardier wasn't going to wait any longer. She took her daughter to the Emergency Room for pain relief, and then to a follow-up appointment with a dentist.
She found out the routine dental care the girl needed had progressed into a serious problem requiring major repairs.
"At the point that she got to, I really didn't care what had to be done," McClain-Moutardier said. "No one likes to see their kid in pain."
Many people are scared of going to the dentist. Others may have a hard time fitting an appointment into their schedule, and in some places it's not easy to find a dentist's office. But, by far, the biggest obstacle to getting regular dental care is cost.
Most people believe that visiting the dentist is important. Yet, nearly 60 percent of people who skipped routine dental care in the past 12 months said they couldn't afford it, according to an American Dental Association poll.
"Cost was the main reason irrespective of age, income level or dental insurance status," researchers wrote about the survey in the Health Affairs journal. "It is important to note that cost was the top barrier to dental care even for adults with private dental insurance."
So, what's the problem with avoiding the dentist? Well, just like an untreated problem with an automobile, problems with teeth get worse over time. In the long run, semi-annual dental cleanings cost much, much less than tooth extractions, crowns and root canals that can cost thousands of dollars.
And it's not just teeth that suffer when dental care is ignored. A growing body of research links poor oral health to several health problems including cardiovascular disease, respiratory infections and dementia.
Studies have shown that people who see the dentist regularly have fewer health issues and spend less money on medical care overall.
"There is compelling evidence that financial barriers to dental care result in serious consequences to oral health and overall health and well-being," researchers wrote. "Adults are suffering serious consequences from not receiving dental care because of cost."
The survey data is helpful for public policy makers looking to improve the country's health. On an individual level, the data makes it clear that private dental practices must do more to make routine care affordable to patients.
Some dentist's offices now offer discount plans to help patients pay for regular cleanings and avoid the much-higher costs of major restorative care. For example, Gentle Dental Associates in Ann Arbor offers a preventive care package that includes two semi-annual exams, two professional cleanings and one set of bitewing X-rays for the low cost of just $22.50 per month.
Or, for a small annual fee, Gentle Dental Associates covers the entire family with 35-percent off preventive services such as exams, cleanings and X-rays, and 25-percent off restorative services such as fillings, crowns, root canals and implants.
"We created these plans in response to patients that only came when they were in pain and had to have a tooth removed," said Felicia Romberger, office manager. "We wished they would come for regular cleanings so that they didn't have to suffer the catastrophic consequences of lost teeth.
"The best way to save money on dental care is to have twice-annual preventive appointments. This allows problems to be diagnosed quickly and treated before they become more intrusive and expensive."
Here's a quick cost comparison:
A small one-surface filling costs between $150 and $200
If that cavity is not treated until it progresses and becomes painful, then a root canal, core and crown could be needed at a cost of about $3,000
Even the cost of extracting the tooth would be about $100 more than filling the cavity early, and removing a tooth can lead to other problems: difficulty chewing, increased risk of bone loss and higher likelihood of additional extractions.
About 60 percent of adults go to the dentist regularly, according to survey data. But many people put off visiting the dentist until something is wrong, and that's when care becomes more expensive.
The U.S. Centers for Disease Control estimates that 27 percent of adults have an untreated cavity. This can be fixed with a simple filling, but if the cavity festers and expands it will require dental care that can cost 15 to 20 times as much money.
"All of this could be prevented if it was caught early, and a filling costs less than an extraction, too," Romberger said. "Plus, there is little to no pain involved with a filling.
"We have had great success in helping those patients without insurance remain healthy with our affordable plans."
Ironically, putting off visits to the dentist because of cost actually ends up costing more in the long run. It was an expensive lesson learned for McClain-Moutardier. Her daughter had to have a pulpotomy on one of her molar teeth, and she'll eventually need a full root canal, too.
Worse than that, she feels horrible that her daughter had to go through such a painful experience.
"Thinking no one's going to be able to help me because I don't have insurance is not the right way to look at it," McClain-Moutardier said. "I should have not been afraid to ask for help and do what I needed to do to fix the problem before it became a big problem."
Behind cost, fear of the dentist was the second-biggest reason people avoid going to the dentist, according to the ADA survey. Other leading reasons: people say their appointment time and location are inconvenient, have trouble finding a dentist, or no longer have any teeth.